NHS 2021 Win YOUR Wedding Competition
2 May
2021-01-03 0:14
NHS 2021 Win YOUR Wedding Competition
We've been struck by the amazing stories of kindness, goodness, selflessness, bravery  and sheer love of their fellow human beings from those working right on the NHS frontline and beyond during the COVID-19 crisis.
We will all have a story to tell about the past few months, and the pandemic of COVID-19. Many of us will use words such as "these were extraordinary times, unprecedented times". All of us will pay testimony to the massive role of NHS staff and key workers which we have all clapped for, and shown our extreme appreciation for, as they to provide the vital services we needed to keep us safe and save lives week in, week out.
This is why we have come together as "The Wedding Collective" to give away this amazing gift – Your wedding day and all you need for a beautiful day given to you as our "THANK YOU.
Whilst we do believe that everyone who has been working on the frontline deserves, of a brilliant day, we would like to gift a superb wedding day to just one couple.
We would like to offer the full Wedding Planning Service for on the day planning, Bride's Wedding Dress, Groom's Suit, Wedding Cake, Designer Bride's Wedding Shoes, Event Decorations, MC, DJ, Dance Floor, Wedding Florals, Bridesmaids Dresses, Reception Drinks, – and all the other things which go to make a wedding really wonderful.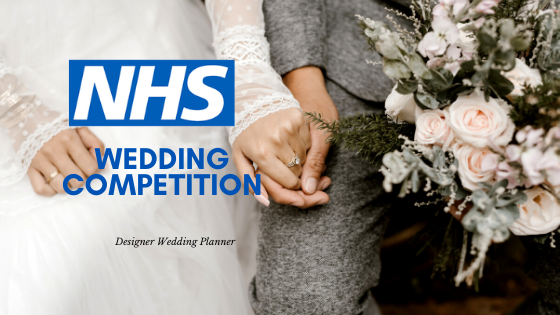 We are still putting the final touches to the venue, to the dress, and to other elements of the wedding day, but you can guarantee it will be an amazing wedding day we will be giving you the "perfect wedding", helped by a fantastic range of top brands and event professionals.
Our prize will include everything for a top of the range wedding for up to 200 guests.
We have thought of everything for those magical finishing touches, from the tablecloths to the crockery to the decor and the entertainment.
We will give you exciting memories to last a lifetime.
As we get our specialist vendors list up, check back here to see and be amazed, but don't leave it too late to apply as we have some terms and conditions which have to be met in order to satisfy our judging panel.
Please confirm that you have the permission of the person you are entering and proof of their occupation as an NHS staff member or other key worker.
This competition is open to UK residents only and the couple must be legally able to marry early next year 2021.
Submit your entry, along with a picture of your nominees, to: [email protected]
Entries are now closed –
The wedding will hoped to be held in 2021 depending on the Government guidelines on the Covid-19 and weddings.
The entries will be judged by Chief Wedding Consultant Shola at Designer Wedding Planner, as well as other extremely experienced industry professionals.
We wish you the very best of luck and thank you for all you've done for the nation.