Emily and Eddie Weds at Millbridge Court in Surrey
Emily and Eddie Weds at Millbridge Court in Surrey
Wedding at Millbridge Court in Surrey
Sunday we were privileged to prepare for the wedding of Emily and Eddie at the fabulous Millbridge Court Wedding Venue in Guildford Surrey.
It has been about 5 months working with the couple in planning what they wanted for their special day – how they wanted the room to look and how they wanted their guests to feel a big part of their day.
Emily was clear in that she wanted a stunning creation and a day filled with flowers and not just any flowers, they has to be in season, bright colourful roses, peonies, hydrangeas and orchids to name a few.
Working with the team at Designer Chair Covers To Go. They were able to give the happy couple a close up and personal meeting where they were able to select and view the centrepieces they liked from the many varied styles and sizes on display in the showroom. Then it was up to the Events Decoration Director to present a showpiece plan for Emily to look through. Now to say that Emily knew exactly what she wanted could be an understatement – she knew what was current, what would work well and she left the eye to detail to us to show her what was possible and what would indeed wok in her venue.
It was fast becoming another one of our now popular show stopping weddings with all the glitz and glamour of an inspirational 1st class awe inspiring set up.
Sending video mock ups to the bride to peruse and to hear her say "yes – I love it' was music to our ears.
The team arrived at Millbridge Court to an empty shell of a room, set with tables, wine glasses and cutlery.
This was the blank canvas we needed so our creative juices were flowing.
The weather promised to behave and stay dry so the plan to have an outside wedding was going to come through.
Emily and her husband were going through their paces and having final run through with their bridal party. They had already completed their wedding vows about 6 months previously in USA and this was to be their special blessing with family and friends.
Emily looked excited and wanted reassurance that we had enough of the blush pinks flowers she had set her heart on. Her husband to be looked equally excited giving hugs all round.
There were 2 sets of arbour which required dressing so the team set about draping the area where Emily and her beau were to make her grand entrance with floating blush pink draping with floral details and a hug floral cuff.
Where the special blessing was to take place also needed our Décor attention – again with lots of floating blush pink draping we accentuated the top of the drapes with a large floral header with masses of flowers. The ceremony area was all set and looked stunning . the venue staff were really impressed as they had not seen their venue looking as stunning as this before. Indeed this showed how well the wedding room could look with our experienced Event Décor Team.
The Wedding at Millbridge Court in Surrey had 2 lots of huge flower walls to make up – we set about with the task of creating a statement piece behind the top table – a really wide and tall flower wall with hints of ivory, pinks and dark fuchsia orchids to set the room alight.
Then at about 3pm Eddie came down stairs and behold he was wearing the bluest wedding suit we had ever seen. Jaws dropped at the sharpness of the cut and the man wearing it looked really pleased with himself. It was a custom made design, with the 3 piece suit fitting his style and his stylish character.
At the Wedding at Millbridge Court in Surrey the guests started arriving and we could hear to sharp in takes of breath as they walked into the ceremony area and greeted each other. Many had in fact travelled from USA and other countries abroad to share the time with the happy couple.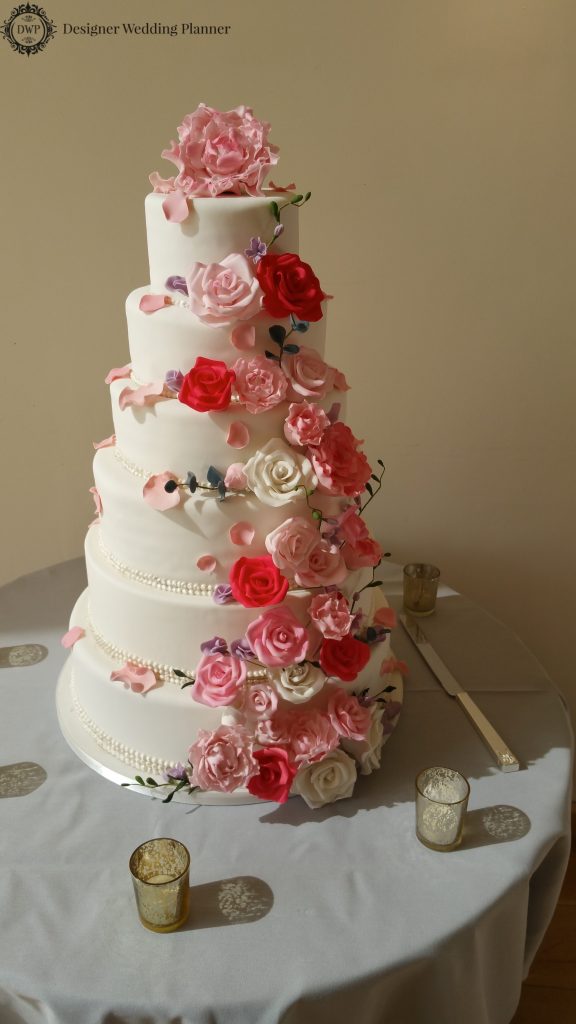 Then the vision of beauty was there in the hallway standing with her father. Emily was in a well fitted designer couture gown with slight off the shoulder white gown with an elegant train and her face was covered in her veil. She gave me the thumbs up to say she was ready for her special day and she was happy. The 4 piece orchestra played the music which seemed to float through the summer air as she glided on the arms of her father to meet her new husband.
At the wedding at Millbridge Court in Surrey, the rest of the day sped by in a haze of happiness, photographs, hugs and kisses and the ceremony was all over. The sit down was well organised and again went with a smooth bang with champagne corks and speeches all in and now relaxed atmosphere.
Guests were happily exchanging good thoughts of days gone by and great days to come.
The dancing was held in the room where we had set up the massive 5 foot lighted 'LOVE' letters which by evening was enough to light the whole room where bride and groom and their guests danced the night away to a very up beat disco.
for the wedding at Millbridge Court in Surrey, we left happy in the fact we knew we had made another couple happy with our work and with their special day.
Designer Chair Covers To Go are specialist designers who create the vision of what the bride and groom what for their day and execute the plans with ease and confidence.